"Once used to bolster troubled staffers, coaching now is part of the standard leadership development training for elite executives and talented up-and-comers at IBM, Motorola, J.P. Morgan, Chase, and Hewlett Packard. These companies are discreetly giving their best prospects what star athletes have long had: a trusted adviser to help reach their goals." -- CNN.com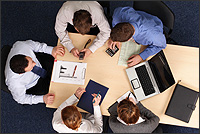 What is Executive Coaching?
Executive Coaching is a personally tailored 6-month program designed to accelerate the leadership development of top-flight executives essential to the Company's future. Corporate coaching is a tripartite relationship between Executive (Coachee), Supervisor (Sponsor) and the Coach based on shared purpose, trust, confidentiality and mutual respect. It maximizes the value of the strategically valuable employee as an asset to the organization.
Why Choose Executive Coaching?
Executive Coaching has proven to be a powerful and effective program that aligns Company and Executive agendas to:
Enhance performance through personal paradigm shifts
Sharpen leadership skills of high potentials
Create self- realization and builds the commitment to change
Ensure success of newly promoted managers
Provide technical people with management and leadership skills
Correct management behavior problems